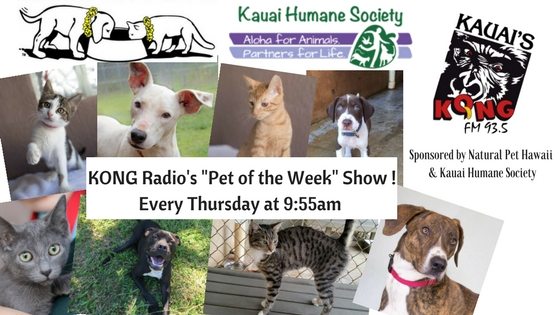 Tune in to Kauai's KONG FM 93.5 EVERY THURSDAY AT 9:55AM for KONG radio's "PET OF THE WEEK" SPOTLIGHT SPONSORED BY NATURAL PET HAWAII IN PUHI.
RON WILEY AND a member of the Kauai Humane Society – Will be spotlighting a pet available for ADOPTION !! And, when you ADOPT the "Pet of The Week," You'll receive a special customized gift that you and your pet will appreciate from Natural Pet Hawaii in Puhi on Haleukana Street!.
LOOK to Natural Pet Hawaii for your high quality pet foods, accessories, toys and knowledgeable service.
NATURAL PET HAWAII – OPEN SEVEN DAYS A WEEK IN THE PUHI INDUSTRIAL PARK ACROSS FROM MARK'S PLACE.
Visit –
Kauai Humane Society:
Natural Pet Hawaii :
1596 Haleukana St, Lihue, HI 96766
(808) 246-1738
Mahalo to our sponsors,  Kauai Humane Society and Natural Pet Hawaii !!!